Cudelice Brazelton IV and Dozie Kanu
Recoil
12.5.2020 - 1.15.2021



Cudelice Brazelton IV, Lord, 2020
inkjet print, steel



Cudelice Brazelton IV, Incomplete Burglar, 2020
aluminum, electrical tape, paper, acrylic, thread, steel, synthetic leather, screws, nails



Dozie Kanu, raspberry data chamber worthy with chest (type seat), 2020
raspberry pi, video, steel wire, found toddler chair frame, found iron, torso armour



Dozie Kanu, Chair [ xv ], 2020
automatic bottle filling machine, bulldozer tooth, steel, melted lead, powder coat with sgraffito, and sandblast


Cudelice Brazelton IV, Stream, 2020
acrylic, leather, steel, paper, inkjet print on canvas



Dozie Kanu, Untitled, 2020
diptych c-type print, framed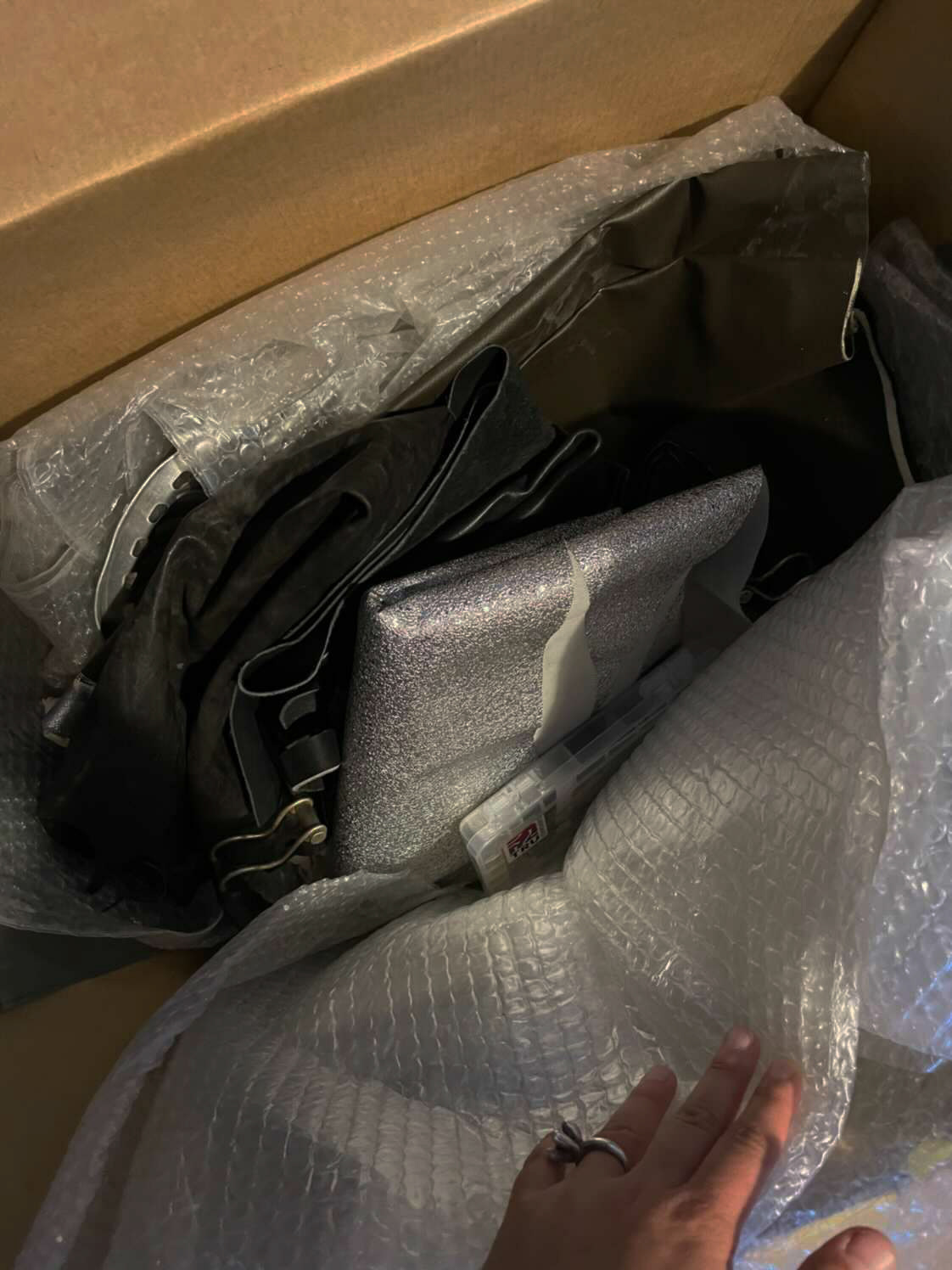 International Waters is pleased to present Recoil, an exhibition of new works by Cudelice Brazelton IV and Dozie Kanu.

The object is reanimated, repeating its movements like a drum. Its volume binds it to the sloping floor. An unforseen utility arises from the work of both artists. Objects cycle through modes of deconstruction and reconstruction in collage and sculpture, emphasising the chassis as a starting point.

Powdered technics are recombined with paper and leather. An iron torso clad in armor observes the room, separated from the flaking red panel incised with fresh wounds. Works are defined by their form; the individual pieces like shrapnel have been repositioned as an organized system of physical relations.

The image of static moves across the wall, modifying the architecture. Stripped electrical tape acts as a gloss railing. Hardware and images travel along its path. Cut with swift files.

Sculptures are anchored to the ground; a repetition of placement. But this oblique platform is designed to accomodate these lasting relations. Histories of lost utility are apparent, but not revealed — their identity travels with the objects like ghosts; filling the room with a certain Hauntology. Repurposed weights inclined for activation.

A statement:
Brunt force and audible voices usually collide. Always heading toward one another with volume. Once repeated, the volume grows.




Cudelice Brazelton IV (b.1991) lives and works in Frankfurt Am Main, where he currently attends the Hochschule Für Bildende Künste, Städelschule.

Selected solo exhibitions include: Heavy Circuit, Ola Bunker, Frankfurt, Germany, 2020; Violent Groom, Galeria Wschód, Warsaw, 2020.

Selected group, two person exhibitions include: Cuerpos, Lodos, Mexico City, 2020; The Decameron, New Release Gallery, New York, 2020; Prune, Shoot The Lobster, New York, 2019; °C, Clearview, London, 2018; Le Colt Est Jeune & Haine At Doc!, Paris, 2018; In Practice: Another Echo, SculptureCenter, Long Island City, 2018; Bounty, Jeffrey Stark, New York, 2017.

Dozie Kanu (b. 1993) lives and works in Santarém, Portugal.

Selected solo exhibitions include: Owe Deed, One Deep, Project Native Informant, London, 2020; FUNCTION, The Studio Museum in Harlem, New York, 2019; Selected group exhibitions include Enzo Mari, curated by Hans Ulrich Obrist, Triennale Milano, 2020; Crack Up – Crack Down, Ujazdowski Castle Centre for Contemporary Art, Warsaw, 2020; Transformer: A Rebirth of Wonder, 180 The Strand, London, 2019; Midtown, organized by Salon 94 and Maccarone Gallery, Lever House, New York, 2017