Sam Cockrell
Morpho
1.27.2023 – 3.26.2023


The It is the chrysalis, the You the butterfly. Only it is not always as if these states took turns so neatly; often it is an intricately entangled series that is tortuously dual.
The It-world hangs together in space and time.
The You-world does not hang together in space and time.
The individual You must become an It when the event of relation has run its course.
The individual It can become a You by entering into the event of relation.1
Martin Buber, Ich und Du, [I and Thou], 1937
translated by Walter Kaufman, 1970



Butterflies and moths organize their bodies through an interpretation of their environment. With wings made of thousands of chitin scales, they generate intricate patterns in a contrapositional representation of their surrounding landscape. Butterfly wings produce every conceivable color, and moths produce every hue. In so doing, they dispossess nature of it's image; these winged creatures are the embodiment of nature qua spirit. For the exhibition Morpho at International Waters, a constellation of butterflies and moths on canvas presented by the artist Sam Cockrell achieve a parallel process of dispossession.

For Cockrell, an obsession with butterflies and moths has emerged through a daily painting practice. Using an airbrush, Cockrell's paintings double as an archive of relations between the artist and various forms of animalia. Not limited to, but certainly with a focus on Lepidoptera, Cockrell ritually documents animals, producing one painting per day, for each canvas taking note of the date of each interaction. By using an airbrush, his gesture is a soft one that is careful to never make contact with his surface. In a field blur, Cockrell's creatures fall into their environment; at times their bodies are rendered with only a mist of color; and rarely are they described by a hard line. Each work recalls a photographic instant; the paintings capture static objects that would otherwise seemingly be in motion. For Cockrell, butterflies and moths possess a history of human iconography and also represent a planetary history.


I make paintings of moths, ancient beings who, ensnared by the evolution of the first flowers some 130 million years ago branched into a species that obsesses over and serves flowers – butterflies. Their obsession bleeds into our own - we are preoccupied with these brilliantly-colored flappy things, our ancient ancestors' first exposure to vibrant color. Deep in my DNA is a love for these creatures, themselves both as a life and as a symbol. A desire to be close to them, not a desire to own them, fuels fascination and intrigue that remains endlessly familiar yet unknowable.2


Like Cockrell, the apprehension of butterflies and moths is a passion that has captivated the minds of many. Aristotle named them after "Psyche", the human lover of Eros. The butterfly was also known as the Egyptian symbol for the human soul. In Mesoamerica, butterflies and moths appear in murals at Teotihuacan and Cholula. They can be found representing themes from pleasure and abundance to hunger and duplicity.3 The butterfly embodies the conditions of it's environment; therefore its depiction represents the environmental conditions surrounding it's maker.

A particular subset throughout history have collected and indexed the species creating the field of ecology to understand their specimens. Maria Sybilla Merian in 1660 (at the age of 13) observed and documented the stages of metamorphosis of butterflies and moths in her garden in Nuremberg, reproducing them in great detail through a series of watercolors. She is recognized as a founder of ecology and entomology; her works appeared decades before Linnaeus and Darwin who both cited her book "Metamorphosis insectorum Surinamensium" (1705) in their respective writings. Prior to Merian, theories around the spontaneous generation of butterflies and moths from flowers and mud dominated scientific belief on their reproduction. The masses marveled at Merian's defiant discovery of the metamorphic life cycle from egg, to larva, to pupa to adult; all illustrated in her watercolors which were made with a meticulous likeness.4

Robert Baden-Powell, another butterfly painter, founder of the Boy Scouts, the Girl Scouts, a war hero, a spy, a Lord, the Right Honorable, etc… stationed in Malta in the 1890s, frequently "dressed up like a butterfly hunter with a net and a bag."5 In disguise, Baden-Powell would draw butterflies from behind enemy lines. His drawings revealed maps of forts and weaponry hidden in the detailed linework of his butterfly wings.

The writer Vladamir Nabokov, also a known Lepidopterist, was obsessed with butterflies and moths as image-producing insects. Characterizing their wings as exploits, Nabokov likens the butterfly to a deceiver with artistic impetus:


The mysteries of mimicry had a special attraction for me. Its phenomena showed an artistic perfection usually associated with man-wrought things. Such was the imitation of oozing poison by bubble-like macules on a wing (complete with pseudo-refraction) or by glossy yellow knobs on a chrysalis ("Don't eat me—I have already been squashed, sampled, and rejected"). When a certain moth resembled a certain wasp in shape and color, it also walked and moved its antennae in a waspish, unmothlike manner. When a butterfly had to look like a leaf, not only were all the details of a leaf beautifully rendered but markings mimicking grub-bored holes were generously thrown in. … I discovered in nature the nonutilitarian delights that I sought in art. Both were a form of magic, both were a game of intricate enchantment and deception.6


The metaphor present in Cockrell's work positions the butterfly and moth as being a natural form of painter; wielding colors as exploit and pattern as mask. As a flaneur, the butterfly paints its surroundings for it's own benefit; the maps projected on their bodies are an abstraction of daytime florals and fashioned camouflage. Likewise, the moth can be seen as a painter of light, taking inspiration from the night "perhaps to the contrapuntal genius of human fate." Their every flutter is a forgery; their every evolution is with reference.

At the bottom and top ends of the inclining gallery are two paintings of female eastern swallowtail butterflies. Known commonly to North America, these females are dimorphic and may choose to be either yellow or black in color with both variants cohabitating in the same environment. Cockrell presents one of each variant at either end of the space. Traveling upward, the remaining butterflies and moths are arranged on canvases that, in an ascending sequence, advance the creation of an architectural order onto a natural form. The morphological butterfly is redoubled.

With few exceptions, these butterfly and moth subjects were observed in Ridgewood, Queens and the surrounding New York City ecosystem.


Martin Buber, I And Thou (Bureau of Public Secrets).

In conversation with the artist.

Berlo, Janet C. "The Warrior and the Butterfly: Central Mexican Ideologies of Sacred Warfare and Teotihuacan Iconography." In Text and Image in Pre-Columbian Art, edited by Janet C. Berlo. (Oxford University Press, 1983).

Kay Etheridge, Maria Sibylla Merian and the Metamorphosis of Natural History (Amsterdam, Ne, 2011).

Baden-Powell of Gilwell, The Adventures of a Spy (London: C.A. Pearson, 1936).

Vladimir Nabokov, Butterflies, The New Yorker, June 5, 1948.

Ibid.
Eastern Tiger Swallowtail, Yellow Morph, acrylic on canvas, 93 x 67 inches, 2022


Eastern Tiger Swallowtail, Black Morph, acrylic on canvas, 36 x 36 inches, 2022


Common Wood Nymph, acrylic on canvas, 48 x 54 inches, 2022



Pale Beauty, acrylic on canvas, 48 x 60 inches, 2022



White Spring Moth, acrylic on canvas, 48 x 40 inches, 2022



09/17/22, acrylic on canvas, 8 x 10 inches, 2022



02/07/22, acrylic on canvas, 8 x 10 inches, 2022



02/14/22, acrylic on canvas, 8 x 10 inches, 2022



02/15/22, acrylic on canvas, 8 x 10 inches, 2022



05/22/22, acrylic on canvas, 8 x 10 inches, 2022



05/24/22, acrylic on canvas, 8 x 10 inches, 2022



05/26/22, acrylic on canvas, 8 x 10 inches, 2022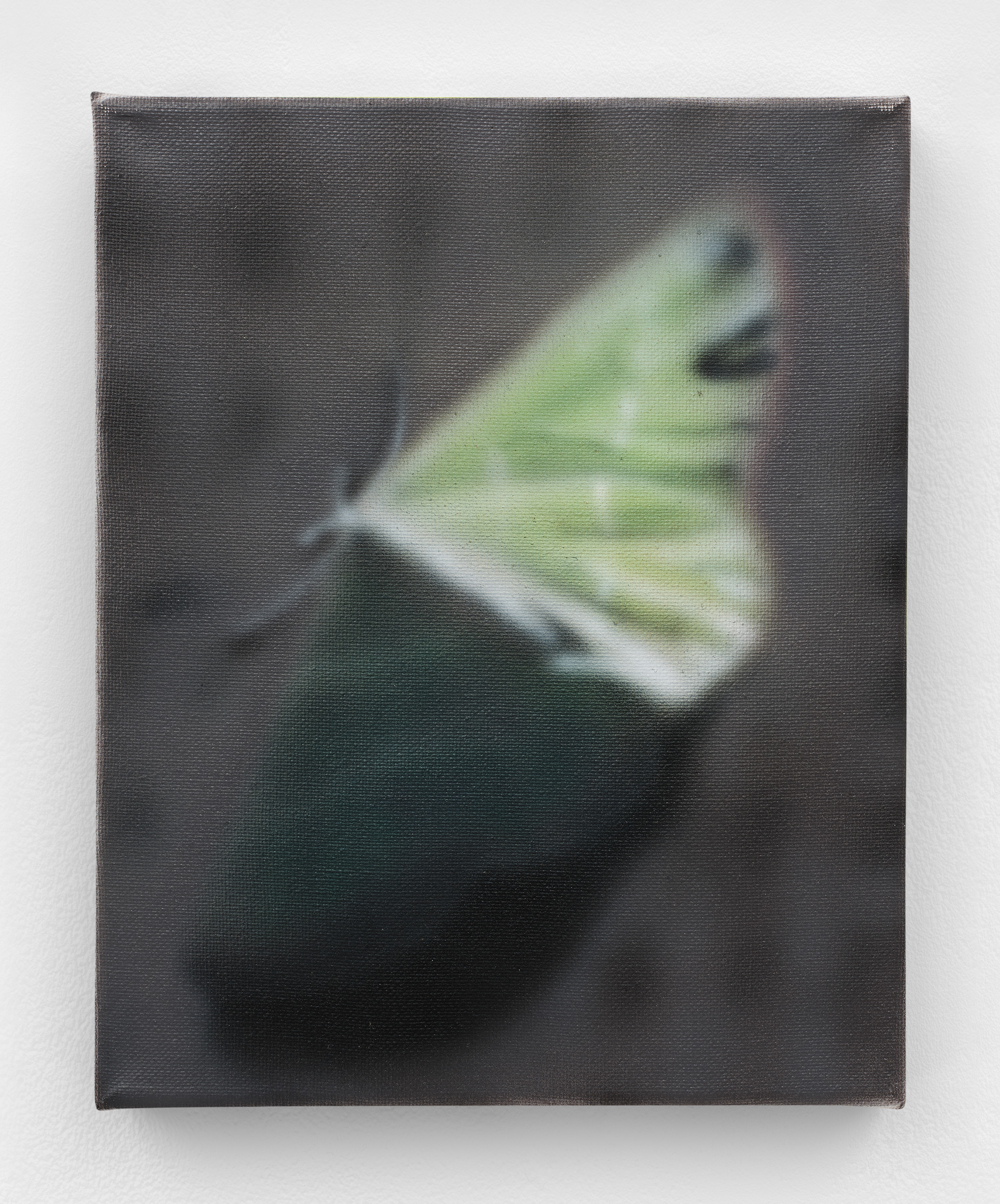 05/27/22, acrylic on canvas, 8 x 10 inches, 2022



05/29/22, acrylic on canvas, 8 x 10 inches, 2022



05/30/22, acrylic on canvas, 8 x 10 inches, 2022



06/01/22, acrylic on canvas, 8 x 10 inches, 2022



06/04/22, acrylic on canvas, 8 x 10 inches, 2022



06/08/22, acrylic on canvas, 8 x 10 inches, 2022



06/09/22, acrylic on canvas, 8 x 10 inches, 2022



06/10/22, acrylic on canvas, 8 x 10 inches, 2022



06/11/22, acrylic on canvas, 8 x 10 inches, 2022



06/12/22, acrylic on canvas, 8 x 10 inches, 2022



06/13/22, acrylic on canvas, 8 x 10 inches, 2022



06/14/22, acrylic on canvas, 8 x 10 inches, 2022



06/15/22, acrylic on canvas, 8 x 10 inches, 2022



06/16/22, acrylic on canvas, 8 x 10 inches, 2022



06/17/22, acrylic on canvas, 8 x 10 inches, 2022



06/18/22, acrylic on canvas, 8 x 10 inches, 2022



06/22/22, acrylic on canvas, 8 x 10 inches, 2022



06/24/22, acrylic on canvas, 8 x 10 inches, 2022



06/26/22, acrylic on canvas, 8 x 10 inches, 2022



06/30/22, acrylic on canvas, 8 x 10 inches, 2022



07/12/22, acrylic on canvas, 8 x 10 inches, 2022



07/14/22, acrylic on canvas, 8 x 10 inches, 2022



07/16/22, acrylic on canvas, 8 x 10 inches, 2022



07/21/22, acrylic on canvas, 8 x 10 inches, 2022



07/23/22, acrylic on canvas, 8 x 10 inches, 2022



07/24/22, acrylic on canvas, 8 x 10 inches, 2022



07/25/22, acrylic on canvas, 8 x 10 inches, 2022


07/27/22, acrylic on canvas, 8 x 10 inches, 2022



07/28/22, acrylic on canvas, 8 x 10 inches, 2022



07/29/22, acrylic on canvas, 8 x 10 inches, 2022



07/29/22, acrylic on canvas, 8 x 10 inches, 2022



07/31/22, acrylic on canvas, 8 x 10 inches, 2022



08/03/22, acrylic on canvas, 8 x 10 inches, 2022



08/04/22, acrylic on canvas, 8 x 10 inches, 2022



08/05/22, acrylic on canvas, 8 x 10 inches, 2022



08/07/22, acrylic on canvas, 8 x 10 inches, 2022



08/09/22, acrylic on canvas, 8 x 10 inches, 2022



08/10/22, acrylic on canvas, 8 x 10 inches, 2022



08/12/22, acrylic on canvas, 8 x 10 inches, 2022



08/17/22, acrylic on canvas, 8 x 10 inches, 2022



08/18/22, acrylic on canvas, 8 x 10 inches, 2022



08/24/22, acrylic on canvas, 8 x 10 inches, 2022



08/27/22, acrylic on canvas, 8 x 10 inches, 2022



08/28/22, acrylic on canvas, 8 x 10 inches, 2022



08/29/22, acrylic on canvas, 8 x 10 inches, 2022



08/30/22, acrylic on canvas, 8 x 10 inches, 2022



08/31/22, acrylic on canvas, 8 x 10 inches, 2022



09/02/22, acrylic on canvas, 8 x 10 inches, 2022



09/03/22, acrylic on canvas, 8 x 10 inches, 2022



09/07/22, acrylic on canvas, 8 x 10 inches, 2022



09/18/22, acrylic on canvas, 8 x 10 inches, 2022



09/23/22, acrylic on canvas, 8 x 10 inches, 2022



09/28/22, acrylic on canvas, 8 x 10 inches, 2022



10/02/22, acrylic on canvas, 8 x 10 inches, 2022


10/05/22, acrylic on canvas, 8 x 10 inches, 2022


10/11/22, acrylic on canvas, 8 x 10 inches, 2022


10/14/22, acrylic on canvas, 8 x 10 inches, 2022



12/21/22, acrylic on canvas, 8 x 10 inches, 2022



11/12/22, acrylic on canvas, 8 x 10 inches, 2022



11/13/22, acrylic on canvas, 8 x 10 inches, 2022



11/25/22, acrylic on canvas, 8 x 10 inches, 2022